Continuous Airborne Mapping By Optical Translator
(CAMBOT)
The CAMBOT system is used to take geo-located, downward-looking natural color digital imagery with. The latest camera used in the CAMBOT system is a Prosilica GT 4905 harsh environment GIGE Ethernet camera with a global shutter. The camera has a detector size of 4896×3264 pixels and is mated with a 28mm lens. At 450m AGL the captured images are a 280m wide swath beneath the aircraft with a pixel resolution of 7cm.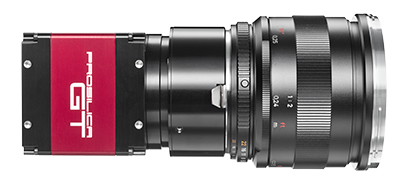 PROSILICA GT
4905
Versatile temperature range for extreme environments
PTP
PoE
7.5 fps @ 16 Megapixel
16 Megapixel CCD camera for extreme environments – GigE Vision®
Prosilica GT4905 is a 16 Megapixel camera with a Gigabit Ethernet interface (GigE Vision®). GT4905 incorporates a OnSemi KAI-16050 CCD sensor providing excellent monochrome and color image quality. GT4905 is a rugged camera designed to operate in extreme environments. GT4905 is a large format housing camera with a standard F-Mount lens mount.